Superintendent's Message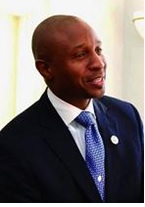 My greatest joy is the opportunity to work closely with the parents, students, staff, community and Board of Education and community members of Coahoma Agricultural High School. We are joined by our united interest in providing high quality learning experiences for all of the students. I am equally; focused on ensuring we continue to develop ourselves as professionals, parents and community leaders so that our efforts remain relevant and positively beneficial to the students.
Together we can and will make a difference. It will however, take the collective commitment of all stakeholders to move CAHS forward by advancing student learning.  I would like to invite all interested persons to join me in this effort by contributing your time and your talent to our school.
Each of us has unique gifts, which separate us from all other human beings. My challenge to you is to identify what that gift is and connect with CAHS building administrators and faculty in order to gain a better sense of how your gift can be used to help CAHS.
I would also like to challenge you to give of your time. No time is too little or too much! Every little bit of help is of big help. Additionally, I would like to challenge you to consider giving of your treasure (resources), by identifying how you might contribute to our school's mission, which is to dramatically improve student learning in the areas of literacy, mathematics, science, social science and technology.    
Thank you for visiting our webpage and please visit CAHS. Together we can help all our students achieve whatever their aspirations and goals happen to be. I need each of you to join us in the work to help all of our students and I look forward to seeing you there.
Sincerely,
Valmadge T. Towner, Ph.D.